AudioShell - ID3 tag editor shell extension
AudioShell 2 is a freeware Windows Explorer shell extension which allows you to view and edit ID3 meta-data tags directly in Windows Vista/7/8 Explorer. It supports all files and tags standards supported by Tag&Rename - music tag editor. AudioShell adds ID3 tag editor and files rename tools into Windows system music files pop-up menu. AudioShell property shell handler add detailed music tags information into Windows Explorer columns and Preview pane, thumbnail handler add thumbnails with album art into Explorer. Full Unicode and 64 bit support.
System requirements: AudioShell is designed for Windows Vista/7/8/8.1 both 32 and 64 bit systems.
Old AudioShell version for Windows XP 32 bit can be found here.
Supported files and tags formats:
mp3 (all ID3 tag versions)
Windows Media (wma, asf and wmv files)
Apple iTunes aac (m4a, m4p, m4r and m4b) and mp4 and aiff files
ogg, flac, opus, speex (vorbis comment tags)
mpc, mp+, monkey's audio, wav pack, optim frog, true audio - APE tags, APEv2 tags
wav - ID3v2.3 tag in 'id3 ' RIFF chunk and LIST INFO chunk
dsf (DSD/Direct-Stream Digital) - ID3v2.3 tag
New in this version:
fixed bug in ID3v2.4 Unicode tags support
New in 2.3.5 version:
improved ID3v2 support
improved mp4 support
improved aiff support
added support for PCM float uncompressed wav files properties
New in 2.3.4 version:
added support for Xtra atom in mp4 files (this atom used by Windows Explorer and Windows Media Player)
minor fixes
New in 2.3.3 version:
fixed bug in mp4 files support on 64bit systems
New in 2.3.2 version:
fixed bug in ID3v2 multiple cover arts in tag support
minor changes in WAV tagging
minor fixes
New in 2.3.1 version:
fixed bug in ID3v2 tag removing from mp3 files
New in 2.3 version:
added Opus files support
added "Retry" button to tag saving error message, so it is now possible to retry tag saving if file is locked by another application
fixed bug in flac support when flac file is not reduced even with very big padding
minor fixes
New in version 2.2:
added check for updates function
added support for DSD256
fixed bug in big wav files support
fixed bug in mp4 files support
minor fixes and improvements
New in version 2.1:
added support for TRACKTOTAL and DISCTOTAL tag frames in Vorbis Comments (ogg/flac) tags
fixed Comments column support in Windows Explorer
New in version: 2.0
added multi files tag editor
if file have only ID3v1 tag, AudioShell will show it data in tag editor window
now file renaming work for files with only ID3v1 tag
minor fixes
New in version 2.0 beta 2:
AudioShell now show ID3v1 tag information if mp3 file don't have ID3v2 tag
added support for .M4R files extension
improved mp4 support
improved wav support
improved dsf support
improved aiff support
minor improvements and fixes
New in version 2.0 beta 1:
added writing support to AudioShell properties handler - now tag fields can be edited directly in Windows Explorer
minor improvements
Major new features in version 2.0:
Tag Editor with most tag frames support
File rename tool
Windows shell properties handler
Windows shell thumbnails handler
Windows Vista/7/8 support
64 bit support
AudioShell screenshots:
Window Explorer show mp3 files thumbnail and properties using AudioShell 2 shell handlers: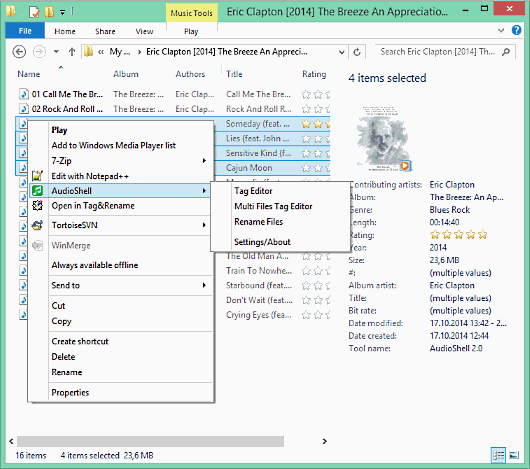 AudioShell 2 - tag editor: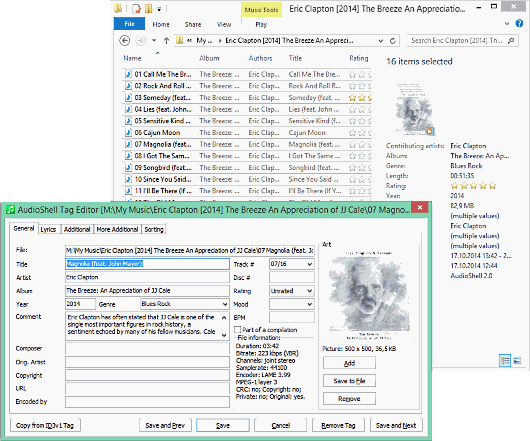 AudioShell 2 - multi files tag editor:
AudioShell 2 - renaming files: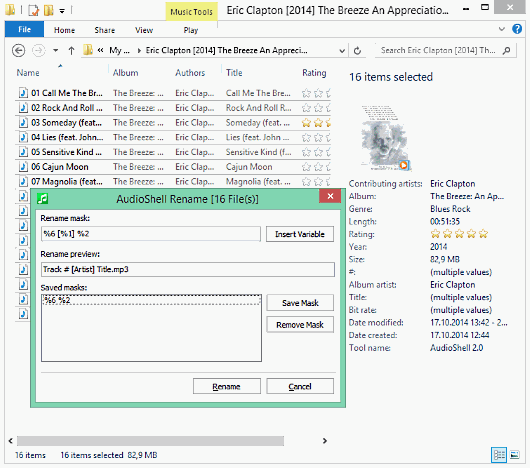 AudioShell 2 - options: