Tag&Rename - music files tag editor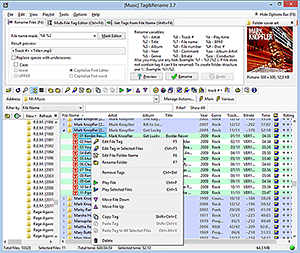 Tag&Rename is a music files tag editor that easily handles all popular digital audio formats. No matter what music compressor you prefer, you can keep your music collection organized with Tag&Rename. It is the only tag editor and organizer which has full native support for: mp3 (ID3v1, ID3v2.2, ID3v2.3 and ID3v2.4 tags), Windows Media wma, asf and wmv files, Apple iTunes aac (m4a) files including mp4, lossless m4a and protected m4p files, Ogg Vorbis, Flac, Opus, Speex (vorbis comments), MusePack mpc/mp+ (APEv1, APEv2 and ID3v1 tags), most popular lossless codecs including Monkey's Audio, Flac, Wav Pack, Optim Frog, True Audio, Apple lossless, Windows Media lossless, Wav, Aiff and DSF (Direct Stream Digital).
Tag&Rename include full Unicode support.
Tag&Rename supports many additional tag fields including lyrics, cover art, rating, mood, disc #, part of a compilation, album artist, classical music fields (Composer, Conductor, etc.), file related URL's and so on. With Tag&Rename, you can:
Tag&Rename supports many files and tags standards in an easy and intuitive way, so you can work with music metadata and not have to think about files codecs and tags versions - Tag&Rename does it all. This is a must have software for any mp3 or mp4 player owner.
In this version:
removed amzon.fr and amazon.co.jp web import - because it is not work anymore
minor fixes
New in 3.9.14 version:
now, if Tag&Rename can't rename or edit tag in file, it is show name of the application that lock this file
improved Discogs search
fixed bug in aiff support
fixed bug in wav support
fixed bug in mp4 support
fixed bug in cover art resizing while saving tag
minor fixes
New in 3.9.13 version:
changed default behavior of iTunes Grouping ID3v2 tag handling
fixed bug when Tag&Rename don't save Grouping settings
minor fixes
New in 3.9.12 version:
added support for new iTunes Grouping ID3v2 tag frame
Czech translation updated
fixed bug in mp4 support
minor fixes
New in 3.9.11 version:
better Discogs compilation albums handling
fixed bug in Discogs multi disc albums import
minor improvements
minor fixes
New in 3.9.10 version:
fixed bug in AIFF support
New in 3.9.9 version:
minor improvement in ID3v2.3 support
updated Italian translation
minor fixes
New in 3.9.8 version:
added Korean translation
updated Estonian translation
fixed minor bug in ID3v2 cover art support
minor improvement in Vorbis Comments and APE tags support
New in 3.9.7 version:
fixed bug in ID3v2.4 Unicode tags support
fixed bug in files filtering
minor fixes
New in 3.9.6 version:
"Add Folder Cover Art to Files Tag" function now check for folder.png file if folder.jpg does not exists
improved ID3v2 support
improved mp4 support
improved aiff support
New in 3.9.4 version:
added "Save ID3 tag chunk as a last chunk in a Wav file" option in Advansed options
added support for PCM float uncompressed wav files properties
files searching and tags reading progress now visible on task bar button
minor fixes
New in 3.9.3 version:
Cover Size, Cover Dimensions and Cover Format added to Tag&Rename export options
added "Auto Fit File List Columns after Changing Folder" option into View menu
German translation updated
fixed bug in mp4 files support
minor fixes
New in 3.9.2 version:
added support for Xtra atom in mp4 files (this atom used by Windows Explorer and Windows Media Player)
Czech translation updated
added "Remove Leading and Trailing Spaces from All Tag Fields" functions to main menu -> Tools
minor fixes
New in 3.9.1 version:
added Brazilian Portuguese translation
Chinese Simplified, Italian translation updated
added support for Windows Explorer "Hide empty drives" option
fixed bug in ID3v2 multiple cover arts in tag support
fixed bug in proxy server authorization
minor changes in WAV tagging
minor fixes
Major new features in version 3.9:
added "Resize Files Cover Art" and "Resize Folders Cover Art" function to "Tools" menu
added "Delete folder cover art" button to "Folder cover art" panel
added "Tags cover art resizing" options to program options -> Tags
added "Set tag image as folder cover art" button to "File cover art" panel
added "Set This Image as a Folder Cover Art" button to "Folder cover art" panel (visible only when "Show first existing image in "Folder cover art" if folder.jpg does not exists" enabled and current image file is not a folder.jpg)
added "Delete Folder Cover Art from All Selected Folders" function to "Tools" menu
added "Retry" button to tag saving error message, so it is now possible to retry tag saving if file is locked by other application
added Opus files support
added Sampling Rate, Bit Depth and Encoder files and folders rename variables
added "Random Sort Order" option to main menu -> View
cover art search URL in Tag Editor and CDDB/Web Import now can be customized in program options -> Web Import -> Cover art search URL
added bit depth, cover art size, cover art dimensions, cover art format and tag version files list columns
New in 3.9 beta 5 version:
improved work of "Trim Year frame if it is contain timestamp (i.e. yyyy-MM-ddTHH:mm:ss) instead of year" option
fixed bugs when renaming and working with files on network shares
minor fixes
New in 3.9 beta 4 version:
fixed bug in direct files renaming in files list when files located over network
minor fixes
New in 3.9 beta 3 version:
added "Tags cover art resizing" options to program options -> Tags
added "Set This Image as a Folder Cover Art" button to "Folder cover art" panel (visible only when "Show first existing image in "Folder cover art" if folder.jpg does not exists" enabled and current image file is not a folder.jpg)
added "Save Discogs Catalog #" check box to web import Album Information window, so Discogs Catalog # can now saved to files tags
"Resize Files Cover Art" and "Resize Folders Cover Art" functions can be now added to toolbars via options -> Customize Toolbars and Shortcuts
Compilation column in files list now use graphics instead of "*" text
added "Don't add leading zero when autofilling track #" option to Tag&Rename options -> Advanced -> Misc
fixed minor bug in Amazon web import
New in 3.9 beta 2 version:
added "Always remove leading zero from disc # value when renaming files and folders" option to Tag&Rename options -> Advanced -> Misc
fixed bug in ID3v2 tag removing from mp3 files
New in 3.9 beta 1 version:
added Opus files support
added bit depth, cover art size, cover art dimensions, cover art format and tag version files list columns
added "Resize Files Cover Art" and "Resize Folders Cover Art" function to "Tools" menu
added "Delete folder cover art" button to "Folder cover art" panel
added "Set tag image as folder cover art" button to "File cover art" panel
added "Delete Folder Cover Art from All Selected Folders" function to "Tools" menu
added "Retry" button to tag saving error message, so it is now possible to retry tag saving if file is locked by other application
added Sampling Rate, Bit Depth and Encoder files and folders rename variables
added "Random Sort Order" option to main menu -> View
cover art search URL in Tag Editor and CDDB/Web Import now can be customized in program options -> Web Import -> Cover art search URL
added "EXTINF mask" option to Program Options -> Playlists
added Season Number and Episode Number to Copy/Swap Tag Fields functions
File Rename Strings options now also used in quick playlists and web imported covers saving
fixed bug in flac support when flac file is not reduced even with very big padding
minor fixes