M4a/Flac/Ogg/Ape/Mpc Tag Support Plugin for
Windows Media Player & Media Center v 1.1
M4a/Flac/Ogg/Ape/Mpc Tag Support Plugin add support for various additional audio files tag formats into Microsoft Media Player v10 and Windows Media Center 2005. This plugin allow you to use in Media Player or Media Center 2005 popular audio formats like m4a files from your iPod/iTunes, Flac, Ogg, Monkey's Audio (ape), Wav Pack (wv), Optim Frog etc.
System requirements: Windows with Windows Media Player version 10 or Windows Media Center Edition 2005. You also need to have additional formats Direct Show filters installed, so Media Player can play your files (i.e. before installing this plugin Media Player should play your ogg, m4a, etc. files).
Supported files and tags formats:
Apple iTunes and iPod aac (m4a, m4b and m4p) and mp4 files
ogg, flac, spexx (vorbis comment tags)
mpc, mp+ (APE/APEv2 tags)
monkey's audio (APE/APEv2 tags)
wav pack (APE/APEv2 tags)
optim frog (APE/APEv2 tags)
true audio (APE/APEv2 tags)
wav (ID3v2 tag in 'id3 ' wav chunk)
Here are some results of Tag Support Plugin work: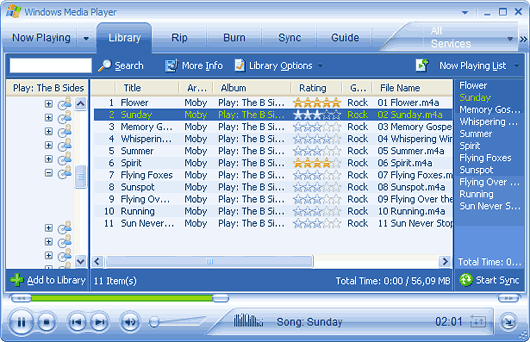 Media Player 10 with m4a files added in it Media Library.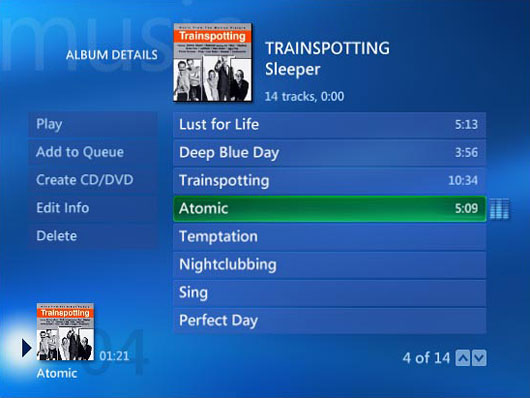 Media Center 2005 playing album encoded in Flac.
Here you can find some links to Direct Show filters (you need it's to play your files):